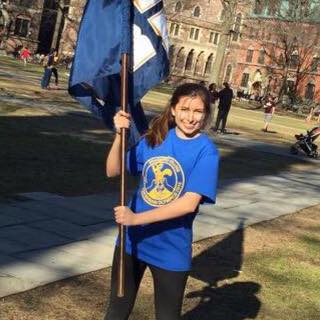 Hometown: Santa Clarita, California
Major: Political Science, Education Studies Scholar Program
Activities: Branford College Council, Branford IMs (BFA!), Yale Education Studies, Yale Students for Christ, Yale Irish Dance. Other pastimes include blowing all of my money on Claire's cake and boycotting every other residential college dining hall (especially JE—have you seen that place? It is an actual dungeon).
Favorite Part About Branford: Literally everything. I remember visiting Branford during Bull Dog Days and falling head over heels in love with it. Fun fact: I actually begged the Yale housing committee to place me in Branford! On the housing app I wrote that my favorite activities included listening to carillon music, watching squirrels run around, playing frisbee in large rectangular courtyards, and admiring gothic architecture. No joke. Mother Branford must have heard my prayers because the housing committee granted my wish.
Favorite Yale Tradition: IMs (intramural sports), especially IM soccer! Some of my best memories at Yale were made making a fool out of myself on that field with my friends, rain or shine. 
Why I Joined BCC: Sense of community has always been really important to me. I love organizing events that bring Branford together as a college and creating opportunities for people to make memories with their friends. For me, the most memorable experiences I've had at Yale are the ones I spent with my friends—going apple picking at the local orchard, dressing up for Halloween, playing water polo in an inner tube, standing in line for two hours to get I-Day crepes, etc. As a member of BCC, I play a hand in creating these memories for other Branfordians. I also get to foster the sense of community and Branford spirit that I love so much. So I guess it's a sort of self-serving altruism. ;)
Also, I joined for the people—and they turned out to be some of the best friends I've ever made. So come hang out with us Monday nights! We're super cool and we already love you! (Plus there's free food).