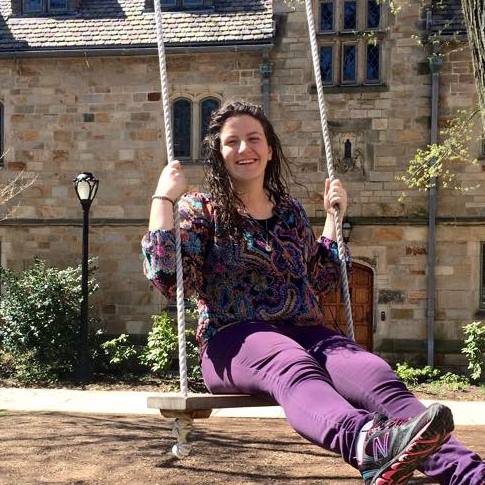 Stephanie Rogers was raised in Pleasantville, NY. (It's only forty minutes upstate of NYC which means it's in the bottom fourth of the state, but you will soon realize that everyone on campus considers this area upstate.) Stephanie is also a pre-med, English major. So ask her about the humanities. Ask her about STEM stuff! Ask her about applying to med school or what being pre-med actually entails. She loves it all. She also has a strange affinity for the computer science major and can definitely speak loads about it (although she really has only started basic coding this summer.)
Much of her time at Yale has been spent at the Yale Daily News, one of our many lovely publications on campus, writing and editing for the Science and Technology Desk! She knows tons about journalism on campus. (Stephanie is currently afraid that she has made many typos in this bio because she wrote it on an iPhone and she admits to being a more passionate writer than she is a copy editor.) Through her time at the YDN, she fell in love with the Yale Peabody Museum of Natural History (which has over 13 million specimens in its collections) and most of science hill. Who doesn't love talking to dorky, beautiful science professors?!?!
Besides writing about STEM, Stephanie has spent most of her time on campus advocating for more open and inclusive as well as safer sexual climate through her work in the groups Sexual Literacy Forum and Sex and Sexuality Week. She loves talking about sexuality/gender/identity. Stephanie considers herself queer and goes by the pronouns she/her/hers. Feel free to chat with her about any of this stuff!
The summer after Freshmen year, she spent an incredible, fulfilling four weeks in Peru on a Spanish language program (thanks to lots of financial aid from Yale). Maybe she will cook up some lomo saltado or ceviche for the freshmen this year as a reminder of her time abroad!
The following two summers Stephanie spent in Louisville, Kentucky– a fun, hipster city known for horse racing, baseball bats, bourbon and Kentucky fried chicken, as part of the Bulldogs in the Bluegrass Yale coordinated internship program. She worked at the nonprofit Volunteers of America, one of the many internship opportunities of the Bulldog programs. (This may sound like an advertisement for Bulldogs in the Bluegrass, but Stephanie just loved the program and its philosophy so much that she can't wait to talk about Kentucky with anyone who cares to share a slice of Derby pie with her.
But most of all, Stephanie loves Branford!!! She has made it her home and more importantly her family for the past several years. She loves attending the Branford College Council meetings and playing Intramurals and just chilling in the dining hall. When times get stressful, mother Branford is always there. Harkness stands strong and our courtyard remains beautiful. Stephanie just loves swinging on the Branford swing!
Stephanie finds it  really amusing that she's been referring to herself in the third person this whole time. In other words, Stephanie doesn't take herself too seriously. She likes being open and talking in stream of consciousness, but she also loves meeting and learning about new people. Email her at stephanie.rogers@yale.edu! She's excited to meet all of the new Freshmen! Welcome to Branford :)