Jennifer DellaCamera
Senior Administrative Assistant
jennifer.dellacamera@yale.edu
203-432-0520
Jen is the Senior Administrative Assistant to the Dean of Branford College. Currently a resident of North Haven, she and her husband are certified Wildlife Rehabilitators and will often be found rescuing baby animals. They have four adopted pets: Darby, a Yorkie and certified therapy dog; Milo, a maltese/poodle mix; Tucker, a shih tzu/lhasa apso mix; and Penny Lane, a calico cat. They also raise cayuga ducks.
Jen is a graduate of Albertus Magnus College where she double majored in English and Communications. She has worked at Yale since 2007, working in the Yale Child Study Center and the Divinity School before joining Branford College. Jen is an avid Beatles fan, drives a 1957 Chevrolet Bel Air and enjoys being an auntie to multiple nieces and nephews.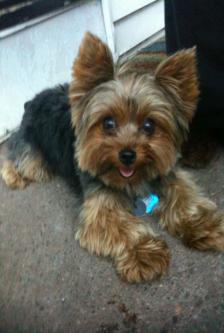 Darby DellaCamera
Darby is a 10 year old rescue Yorkie. Certified through the Alliance of Therapy Dogs, he enjoys being scratched behind the ears and occasional treats. Several times a week, Darby can be found in the Dean's office answering phones, writing emails or taking a nap. He welcomes student visits, particularly when they come with cuddles.