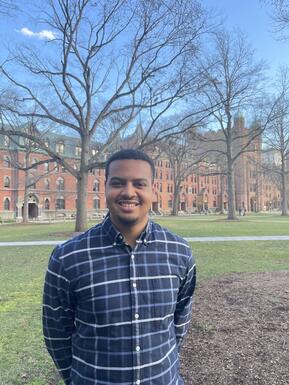 Originally from Jacksonville, Andrew comes from Ocala, a small town in Central Florida. Andrew is pursuing a B.S. in Molecular, Cellular, and Developmental Biology and is looking to apply his research at the Yale School of Medicine and his studies in biology to a career in medicine.
Outside of the classroom, Andrew is involved in many volunteer and service groups including YHHAP's Kitchen to Kitchen project, and Yale Black Men's Union's middle school mentoring program. As an active member in the STEM community at Yale, Andrew has been a part of the STARS program, as both a student and a mentor, making science, research and teaching an integral part of his Yale experience. 
In his free time, Andrew loves showing his Branford pride through intramural sports like flag football and basketball, as well as with his newfound involvement in Branford College Council. He enjoys spending time with his friends of the infamous Branford TikTok Hype House, listening to new music and trying all the excellent food in New Haven. He is extremely excited to welcome and make memories with the Branford Class of 2025!