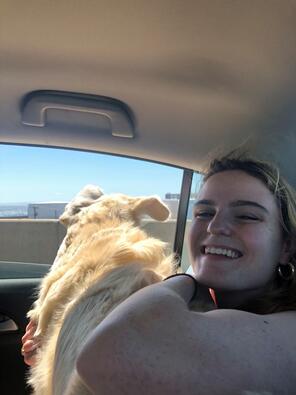 Edie hails from Brooklyn, NY, the home of tattoos and tote bags. She is majoring in American Studies with a concentration in Visual, Audio, Literary and Performance Cultures (the biggest mouthful known to Yale), and she is also an Education Studies scholar. She plans to apply what she's learned about effective pedagogy and unconventional perspectives on American history to a career as a high school social studies teacher. 
Outside of class, Edie is involved in Danceworks, a non-audition, multi-style group; the Yale's Herald as a features editor and creative writer; the Dwight Hall Public School Internship program; and Kitchen to Kitchen, an organization that delivers excess food from Yale dining halls to a nearby soup kitchen. Ask her anything about dance, writing, community service opportunities, or mental health on campus! In her free time, you can find her binging John Mulaney standup or trashy reality TV with her suitemates, reading mysteries or cultural histories in the Book Trader courtyard, or sitting with her legs in a complicated pretzel shape and insisting it's comfortable.
Edie's Branford pride comes out with a vengeance whenever she has the chance to play intramural ping-pong. She peaked in her first year when she was featured as Branford's IM player of the week- it could happen to you!