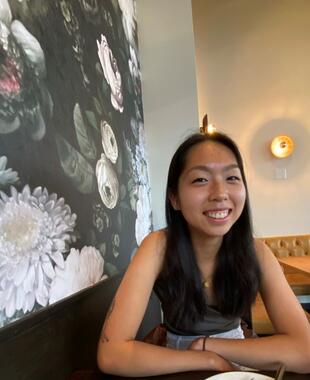 Joyce (she/her/hers) is Computing and the Arts major concentrating in the Visual Arts track. Born and raised in a predominantly Chinese immigrant neighborhood in Brooklyn, NY, she is currently most interested in exploring the spatialization of the Asian diaspora through art and computer science. In the future, Joyce hopes to leverage the power of art and tech to empower historically marginalized communities. 
On campus, Joyce is been involved with the Women and Gender Minorities in Computer Science Group, WGiCS. As a member of the social committee, she is dedicated to planning events that build an inclusive computer science community on campus. Joyce has also been an Undergraduate Learning Assistant, ULA, for the Intro to CS course for the past two years. 
Outside of class, you can find her aimlessly wandering the Yale University Art Gallery, YUAG, consuming a too much coffee and pastries at Koffee? or going on a long bike ride on the Farmington Canal Trail. Joyce is so excited to meet the Class of 2025 and show everyone around all the nooks and crannies of campus!