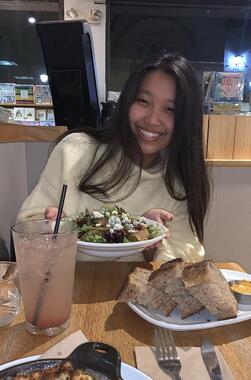 Mary (she/her/hers) is from the great city of Columbus, Georgia (the REAL home of Coca Cola). She is a double major in Earth & Planetary Sciences and Political Science with a certificate in Energy Studies. The odd combination highlights her desire for an interdisciplinary approach to climate change policy with an emphasis on racial justice and energy equity in vulnerable populations. She has worked with multiple labs and research centers on campus, so feel free to reach out for any questions about researching at Yale (both STEM and humanities)!
On campus, Mary has dipped her toes in every corner of Yale's extracurricular scene. She is currently the president of Branford College Council and a member of the Undergraduate Advisory Committee for the political science department. She was a former editor for the Yale Daily News, president of the New Haven Urban Debate League, political chair of the Chinese American Students Association, and creative director of Azure Fashion. Mary has volunteered with the Yale Undergraduate Legal Aid Association, Yale Undergraduate Prison Project, Yale Splash, and Yale Model United Nations. 
Mary is not a runner, but she's quite the walker. Outside of class, you can find her aimlessly walking around New Haven. She is an avid frequenter of the Wooster Square Farmers' Market, so if you're ever looking for a change in scenery, she's always available for a nice walk. As president of Branford College Council, Mary is obligated to say Branford is the best residential college in all of the lands, but she genuinely believes that! Mary is incredibly excited to welcome the amazing class of 2025 to Branford!!!!!!!