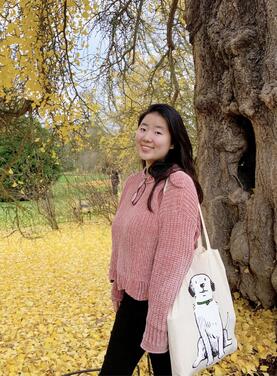 Ruby is a junior who was born in Daejeon, Korea but lived in Los Angeles, CA for the majority of her life. Although she moved to Colorado Springs, CO during the pandemic, she continues to hold onto her inncer Cali spirit!
At Yale, she studies English and data science and loves exploring the impact data has on creating effective storytelling. Outside of being a Branford Aide, she's the Branford Peer Liaison for the Asian American Cultural Center (woohoo!), the Vice President of STAND with "Comfort Women," and an Alto 1 singer in the Yale Glee Club. You'll most definitely find her randomly harmonizing with her friends in the Branford dance room (trust me, it has amazing acoustics), or gushing about the latest BTS news and hits! She can't wait to come back to Mother Branford from her gap year and sneak her favorite chocolate-covered pretzels from the dining hall again.
She's excited to meet you all and welcome you to objectively the best residential college on campus. BFA!