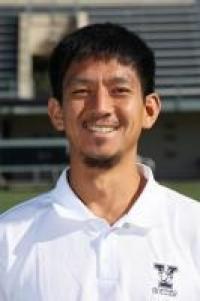 Assistant Coach, Yale Men's Soccer
Hiro Suzuki is entering his second season as the Assistant Coach of the Yale Men's Soccer team and is also a Swing Space Resident Fellow.
Suzuki is a Branford College alum who graduated from Yale in 2000 with a BA in Economics. As a former varsity player at Yale, Suzuki had a key role in one of the most succcessful stretches in the long history of Yale Soccer. During his four years, the Bulldogs won 44 games, including posting a 17-9-2 mark in Ivy League play. As a senior captain, he helped Yale to a thrilling victory over Rutgers in the first round of the NCAA tournament.
In the decade since graduation, Suzuki played minor league soccer and worked in the consulting, government and finance sectors. Suzuki served as a volunteer assistant coach under head coach Brian Tompkins in 2001, and also has coaching experience with the San Diego Soccer Club Pegasus and with PQ Premier. He also earned an MBA from UCLA's Anderson School of Management in 2006.