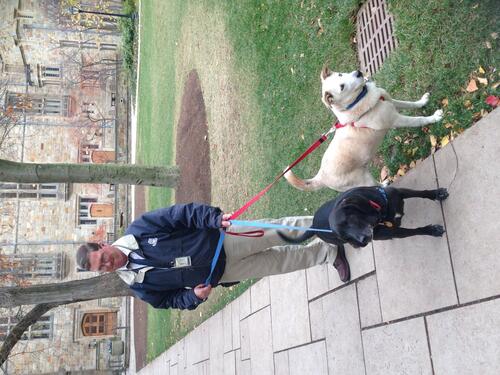 Ian Hobbs
Facilities Superintendent
ian.hobbs@yale.edu
203-432-0527
Ian Hobbs, Facilities Guru of Branford College (and of Jonathan Edwards College), is your go to for any Facilities related issues. He handles ALL the things. You break it, he gets it fixed! (But please, don't break it!) Locked out of your room? He's got you covered. Ian and his staff keep Branford sparkling clean, and, notably, the most beautiful college at Yale.
Proud father of Sadie (and, Nicole, Jaryd and Michaela), husband of Nancy, but, most importantly, proud father of Sadie. Sadie is Ian's rescued Black Lab who dines better than most humans do. Often she can be found eating her morning omelet or her surf 'n' turf dinner. We're not sure how Ian feeds the rest of the family, he only really talks about Sadie. There's a rumor they might eat dog food. Who knows?