First-Year Counselors (known as FroCos) are seniors in Branford who have been selected by the Dean and the Head of College to serve as residential counselors to first-year students. FroCos reside on Old Campus and are an integral part of the advising structure in Yale College. In addition to serving as an advising resource, they assist with assuring the safety and well-being of the incoming class. Each FroCo is assigned a "FroCo group" of between 15-20 students, but first years are welcome and encouraged to get to know everyone in their FroCo team and to go to any FroCo with questions or concerns.
William An
Hello, Branford Class of 2027! My name's William (he/him), and I'm so excited to welcome you to Branford and Yale :D Originally from Florida, I'm an English and Molecular, Cellular and Developmental Biology (MCDB) major.  At Yale, I've loved participating in theater as a director, producer, and dabbler in design. I'm also involved with the Yale Literary Magazine (don't get me started on poetry :') and Dwight Hall, Yale's umbrella organization and Center for Public Service and Social Justice. As for STEM, I conduct research on viruses and bacteria, and I'm also a Peer Tutor for the introductory biology sequence.
As a fan of a good phone call, a leisurely walk, and the timeless ritual of "grabbing a meal together," I look forward to getting to know you and supporting you throughout this next year. Let's make some memories!
Andrew Dabrah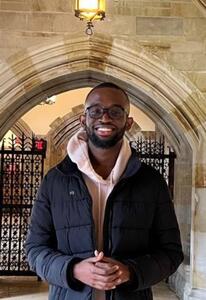 Andrew is from Accra, Ghana, and studies Chemical Engineering and pursuing a Data Science Certificate at Yale. He's interested in its applications in solving pressing environmental, sustainability, and healthcare issues and plans to find work that touches on all these aspects.
Andrew has been exploring his interests at Yale through academic and nonacademic research. In engineering labs, Andrew has aided biomedical engineering research exploring nanoparticles and their use in delivering therapeutics and small molecules to target sites to combat certain diseases. He has also worked with the Carbon Containment Lab, looking at ways to capture and sequester atmospheric carbon. Andrew enjoys building community and planning events that bring people together. He has served as the Treasurer and President of the Yale African Students Association, worked in the Afro-American Cultural Center as part of the AFAM50 celebrations, and worked on the Communications Team. (You will probably find him there a lot senior year too!)
In his spare time, Andrew is probably watching soccer (Chelsea FC – Blue is the Colour), reading, exploring the New Haven food scene, taking pictures, or just having random conversations with his friends. He is excited to serve as a FroCo and meet the Branfordians in the Class of 2027.
David Donnan
David (he/they) is almost equally from Winston-Salem, North Carolina and Covington, Virginia. His curiosity and imagination are interdisciplinary, but he's currently channeling them academically into the Theater, Dance, and Performance Studies major, the research intensive Education Studies certificate, and creative writing classes. 
In addition to theater and education, David loves children's literature, 21st century female pop stars, and geography. He spends a lot of time napping, exploring New Haven, and watching music videos and YouTube compilations of pop cultural moments. At school, he doesn't spend a lot of time cooking, dancing, or hiking, but he loves doing those things too. Extracurricularly, he is a theatermaker, improviser, performance artist, poet, librarian-in-training, and friend.
David is so excited to welcome the class of 2027 to Branford and to Yale!
Forrest LaPrade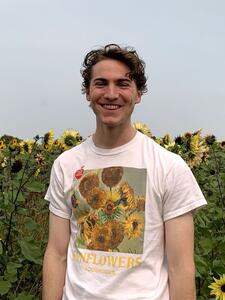 Forrest came to Yale from Des Moines, Iowa, where he grew up with three siblings, three dogs, and around twenty-four chickens. He disliked the chickens, loved the dogs, and mostly liked his siblings (depending on the day). At Yale, Forrest studies Arabic literature, with a focus on literary translation, and human rights, with a focus on migration. Outside the classroom, he writes and performs poetry with WORD (Yale's oldest—and hypest—spoken word poetry group), volunteers with various legal aid organizations in New Haven, and spent two years leading healthy communication workshops with the Dean's Office.
During his course of study at Yale, Forrest took two semesters off: the first to work for a migrant farmworker legal aid foundation at home in Iowa and the second to study Arabic in Amman, Jordan. He later returned to Amman to intern with an international organization and has also studied Arabic in Meknes, Morocco. All of these experiences strengthened his desire to work in transnational public service.
There are many things Forrest is looking forward to this coming year, including watching the seasons change in the Branford and Vanderbilt courtyards, eating in the Branford Dining Hall, and having unplanned encounters with friends while going about his day. He is especially looking forward to sharing all of these things, and more, with the Branford Class of 2027. Welcome home!
Kelly Li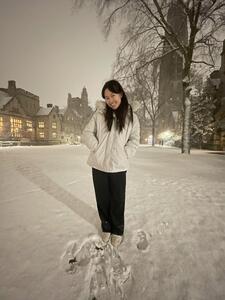 Hello Class of 2027! Welcome to Yale and welcome home! 
My name is Kelly, and I am so excited to meet you! I was born in the San Gabriel Valley near Los Angeles (626 represent!) and have lived there my whole life. Outside of class, you can find me watching Better Call Saul, listening to Rich Brian, and cramming assignments I've procrastinated on in the Branford Buttery. Majoring in Political Science, I hope to engage in grassroots efforts as an advocate for equity. On campus, I am involved with the Yale Institution for Social and Policy Studies (ISPS), The Justice Collaboratory, and the Asian American Cultural Center (AACC). A fun fact about me is that I am also a transfer student from Pasadena City College! As someone familiar with new beginnings, I hope I may be able to relate to your new experiences. Branfordians, I am so excited to meet every single one of you and cannot wait to get to know you and support you in the year ahead. Whether you need advice or a listening ear, I'm always here for you. Welcome Branford Class of 2027!  #squirrels <3
Matthew Merritt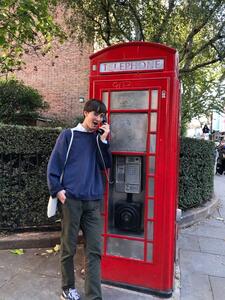 I'm Matthew Elmore Merritt, an incoming Branford FroCo and huge fan of our courtyard's resident squirrels. I grew up with my mom and nana on a cattle farm in Bridgeport, Alabama. 
At Yale, I study African American Studies (major), Global Health Studies (certificate), and Advanced Mandarin on the pre-med track. I'm most involved with Episcopal Church at Yale (ECY), Integrated Refugee and Immigrant Services (IRIS), Yale's Climbing Team (YCT), Rural Students at Yale (RSAY), and intramural basketball (lights out from three). 
My favorite icebreaker is two truths and a lie, for which I will preemptively reveal to you I am a malaria survivor; I have a brother 14 years older than me; my favorite book is Giovanni's Room.  Guess the lie. Good luck!
My email is matthew.merritt@yale.edu.  Feel free to reach out if you need anything before the Fall. As we throw all this information at you, I hope you rest assured that your most demanding homework this Summer is to have a good time.
Alyssa Michel
Alyssa (she/her) lives in Elkins Park, PA and is the proudest Philadelphian who does not live in Philadelphia. Alyssa studies Cognitive Science with an interest in cognitive neuroscience and hopes to attend medical school after graduation. She also researches for a lab at Hartford Hospital studying the effects of transcranial magnetic stimulation on substance use disorders. 
Alyssa spends her summers in Philadelphia where she teaches children how to garden and build community. At Yale, she has served as an editor of the Yale Daily News' Podcast desk and volunteers to teach health education to New Haven students with Community Health Educators. Alyssa has also worked as a Branford Aide (the best on-campus job)! 
During her free time, you will usually find Alyssa in the Branford buttery, watching reality TV, or buying seeds on the interwebs. Maybe she will be doing all three at once. Currently, she is growing Carolina Reaper peppers (the hottest peppers in the world)! You may also find Alyssa in the Branford kitchen where she loves to cook authentic Jamaican food for her friends. 
Alyssa is incredibly excited to welcome the Branford Class of 2027 to New Haven and Yale! Welcome to Branford!!!
Ananya Rajagopalan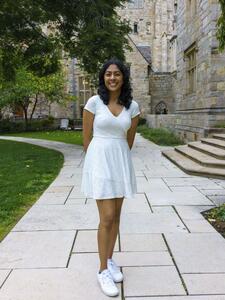 Ananya (she/her) is from Seattle, Washington and loves the Pacific Northwest! She is pursuing her interest in the intersection of technology and healthcare by studying Computer Science and global health. At Yale, she has worked at the Gerstein Lab conducting bioinformatics research, served as a director for Helix, Yale's undergraduate healthcare startup incubator, and works as a teaching assistant for Yale CS classes (CS50 this fall!). She also absolutely loves dancing with Yale Jashan Bhangra, one of the Indian dance teams at Yale.
In her free time, you will find her listening to music, getting taro milk tea and exploring New Haven's delicious food with friends. Feel free to reach out to her with questions about anything at all (academics, extracurricular, social, or otherwise)!  Ananya is SO excited to welcome the Branford Class of 2027 to campus!!