Dean Galindo
(203) 432-0520
mariadelmar.galindo@yale.edu
Branford College — J13
74 High St. New Haven, CT 06511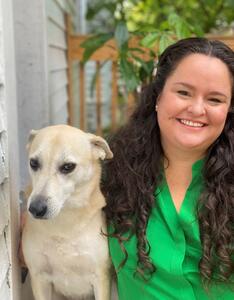 María del Mar Galindo (María del Mar is all her first name) is a native of Querétaro, Mexico, though she has been fortunate enough to live in several countries as part of her professional and academic life. She's passionate about helping students see college as a place where they can set their own goals and forge their own paths, and about creating tools and systems at Yale that celebrate and center students from all kinds of backgrounds. You can always contact her by email or phone; you can make an appointment to meet with her through Calendly or by contacting her senior administrative assistant, Jen DellaCamera (jennifer.dellacamera@yale.edu). 
If you are a Branfordian you can meet with Dean Galindo more informally by catching her in the dining hall, where she tries to have breakfast and lunch several times a week in order to get to know the students in the Branford community.
Dean Galindo earned her BA in 2008 from the University of Oxford, where she read Medieval English Literature. She holds a MSc in Global Politics from the London School of Economics and Political Science, and an MA and MPhil in English Literature from Yale University. Her doctoral research at Yale focuses on people in Shakespeare's England who were reading, writing, and learning at the margins of established groups, and on what they can teach us about the long history of being "underrepresented" in scholarly spaces.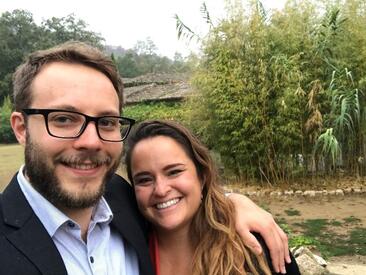 Before returning to academia in 2016, Dean Galindo worked in international development for several years, and was lucky enough to be posted to Mexico City, Geneva, Damascus, and Accra, with brief stints in Rio de Janeiro and Istanbul. She worked on chemical weapon disarmament in Syria and was part of the Ebola epidemic response in West Africa in 2014-2015. She has also worked in consulting and in the nonprofit sector, collaborating primarily with international civil society leaders. She's an avid traveler and has had the incredible good luck to visit over 60 countries for both work and pleasure.
At Yale, Dean Galindo has worked at the Beinecke, at the Yale Writing Center, and with the Academic Strategies Program in the Poorvu Center for Teaching and Learning. In the English Department, she has taught several iterations of ENGL 114, Yale's composition course, as well as courses on Shakespeare, material texts, and forgery and the authentic. She has also taught with the Warrior Scholar Project and serves on its academic advisory board.
Outside of work, Dean Galindo loves to spend time outdoors—she once spent a month dogsledding and winter camping in the Boundary Waters in Minnesota—and gardening (not very well, though her claim to fame is once growing watermelons in her New Haven garden). She's loved hockey from childhood, despite growing up in a country with no real hockey culture or ice, and also enjoys cooking, creative writing, reading, fantasy and sci-fi, and classic rock. She's always on the lookout for new horror films and intriguing television shows.
Dean Galindo's husband, Marcus Alaimo, joins her at Branford. He's currently completing his PhD in the Yale English Department; his work explores the polemical exchanges between Romantic poets and the utilitarian philosophers of the 18th and 19th centuries, and asks how poetry and political rhetoric in this period developed alongside one another and competed for cultural authority.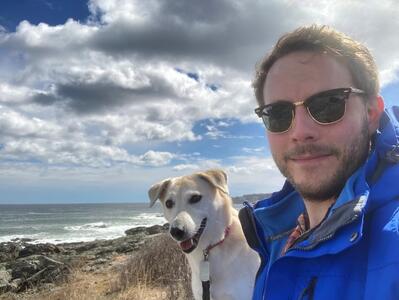 His family is from Oroville, California, and he's a graduate of Butte Community College and Chico State University, where he majored in English Literature and German with a minor in Spanish. He's taught English in Chile and South Korea, and spent a year living in Germany as an undergraduate. He teaches English literature and composition courses in the Yale English Department and with the Yale Prison Education Initiative, and he enjoys reading, writing poetry, stand-up comedy (watching, not performing!), and tennis.
They live in Branford with their amazing but often quite strange dog, Merkel, and their amazing and often quite goofy dog, Alyosha (aka Chilaquil). Merkel is a native of Ticumán, Mexico: she wandered into Dean Galindo's parents' house back in 2014, looking for a home. She has been a proud New Havener since 2016: she particularly loves the Farmington Canal Greenway, the Edgerton Park meadow, and the barbecue bones that people discard near Ricky D's Rib Shack in Science Park. Yosha is a rescue from Texas: he loves all people and all dogs, and can often be found in the office with Dean G., sleeping on his back with his legs curled up above him in a good impression of a rotisserie chicken.