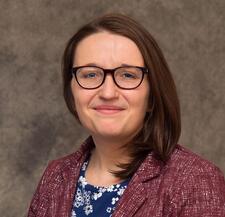 Rachel Lyke
Operations Manager
rachel.lyke@yale.edu
203-432-0529
Rachel Lyke is the Operations Manager at Branford College.  Before coming to Branford, Rachel worked in the Yale School of Medicine as the Assistant Administrator in the Department of Pathology Chair's Office.  Prior to coming to Yale in 2017, Rachel was the Program Manager for the Bennett Center for Judaic Studies at Fairfield University.  Other roles she has held have been Associate Faculty Support Administrator at Post University, and Graduate Admissions Assistant at the Princeton School of Public and International Affairs at Princeton University.
Rachel attended the University of Connecticut where she earned bachelor's degrees in English and Journalism.  She has a master's degree in English from The College of New Jersey.  During her MA program, she taught a memoir writing workshop to inmates at the Edna Mahan Correctional Facility for Women.  In December of 2019, Rachel defended her dissertation and earned her Ed.D. (Doctorate in Education) in Higher Education Administration from Northeastern University.  Her work focused on relationships between and professional experiences of community college faculty.
When not at work, Rachel enjoys hiking, working out, practicing yoga, and visiting the beach as much as possible with her husband and daughter. 
Joan Dempsey
Senior Administrative Assistant
Head of College Office
joan.dempsey@yale.edu
203-432-0524
Joan Dempsey is the Senior Administrative Assistant to the Head of Branford College. Joan oversees and coordinates administrative and program activities of Branford College including developing and coordinating the work of the Branford Aides. Joan does a wide range of administrative functions to support academic and social programs and operations of Branford. She oversees room reservations, keys, and the on-going upkeep of Branford facilities; she also buys Branford gear, helps plan and carry out social activities for the College, and directs students, parents, and alumni to the right people.
Joan is a graduate of Merrimack College (B.S., Business Management). She has previously worked at Yale in the Investments Office, Yale College Administrative Office, Pierson College, the Office of Finance and Administration, and the Branford College Dean's Office. Joan is married and lives in Wallingford with her husband Jim. Her triplet daughters are recent college graduates and her son is currently working for UTC Corp while obtaining his MBA. Joan enjoys walking, reading, cooking and most importantly spending time with her family.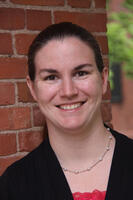 Jennifer DellaCamera
Senior Administrative Assistant
Dean's Office
jennifer.dellacamera@yale.edu
203-432-0520
Jen is the Senior Administrative Assistant to the Dean of Branford College. Currently a resident of North Haven, she and her husband are certified Wildlife Rehabilitators and will often be found rescuing baby animals. They have three rescued dogs: Milo, a maltese/yorkie mix; Tucker, a shih tzu/lhasa apso mix; and Ollie, a miniature goldendoodle.
Often, Ollie accompanies Jen to the office. While he's not particularly good at filing or answering phones, he takes his job as greeter/security very seriously (unless he is hungry or needs a nap, then all bets are off). Ollie loves treats, squeaky toys, treats, belly scratches and…treats.
Jen is a graduate of Albertus Magnus College where she double majored in English and Communications. She has worked at Yale since 2007, working in the Yale Child Study Center and the Divinity School before joining Branford College. Jen is an avid Beatles fan and drives a 1957 Chevrolet Bel Air. Her favorite job in the world is being an Auntie.
Tara Landino
Service Assistant
tara.landino@yale.edu
Tara Landino joined Branford in May 2016. Tara is responsible for overseeing all of the happenings in the House, whether it's a dinner, reception, study break, or a Tea. She works with the Aides at events and works closely with the De La Cruz family. Tara is responsible for most of the delicious treats that you'll find at events in the House or at the Branford Tea Room.