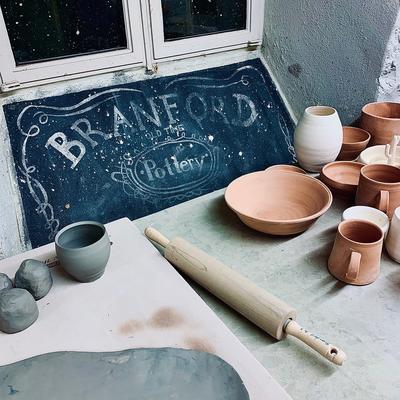 With three wheels, a wedging table, a full selection of glazes, and our very own kiln, Branford boasts a fully functional pottery studio. Whether for learning to throw pots or for making clay sculptures, all Branfordians are encouraged to come make use of this special space. The Pottery Studio is located in the basement, between the Buttery and Entryway M. Our Pottery Studio is run by undergraduates Isaiah Kelly, Sophie Chmelar, Sevi Burget-Foster, Esha Akhtar, and graduate affiliate Sara Locke, under the supervision of Penelope Van Grinsven.
The Pottery Studio has open hours each week. The schedule for Spring 2023 is as follows:
Mondays 8-10pm
Tuesdays 8-10pm
Wednesdays 7-9pm
Thursdays 8-10pm
Fridays 3-5pm
Saturdays 6-8pm
Sundays 2-4pm
To obtain ID card access to the Art/Pottery Studio, please contact the Head of College office.
At this time, access is restricted to Branford undergraduates only. We hope to welcome other Yale College undergraduates soon.