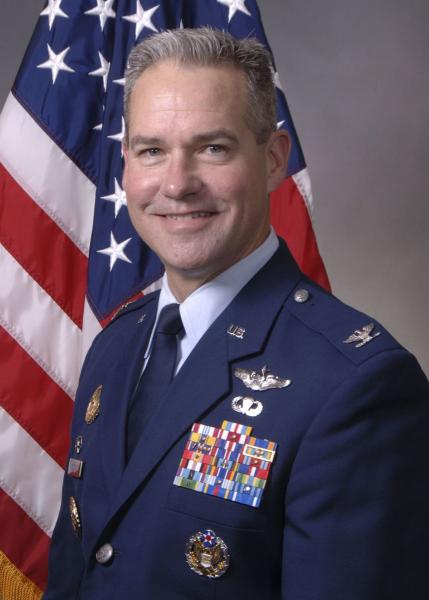 Colonel Thomas McCarthy, Ph.D. is the Commander of the Air Force ROTC Detachment and Professor of Aerospace Studies (Adjunct) at Yale University. A 1990 graduate from the US Air Force Academy, Dr. McCarthy received his doctoral degree from The Fletcher School, Tufts University, holds a Master's Degree from George Washington University and two Masters Degrees from Air University. His research interests include strategy, national security decision making, technology and national security, cyber power, and global security.
Previous university academic experience includes six years at Air University; two years as Commander and Dean of the School of Advanced Air and Space Studies, two as Director for the USAF's Center for Strategy and Technology, and one as Deputy Department Chair and Professor for International Security Studies at the USAF's Air War College.
Outside of academics Col McCarthy is a helicopter pilot with over 2000 hours in special operations and rescue aircraft and has combat experience in Bosnia, Kosovo, Africa, the Middle East, and Afghanistan. He served two years as the Presidents Military Aide, worked in the Office of the Secretary of Defense, and has served on the Air Force's Pentagon staff. Col McCarthy's operational flying experience includes HH-3Es at Kadena AB, Japan and MH-53J?Ms at both RAF Mildenhall, UK and Hurlburt Field, FL. as an instructor pilot, mission flight lead, and airborne mission commander for joint assault forces.