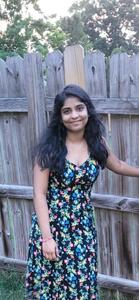 Medha (she/her/hers) is from Richmond, Virginia but has moved around the US during her childhood. She is studying Molecular Cellular and Developmental Biology (MCDB) and Statistics and Data Science (S&DS). Medha is a science tour guide, part of a poetry group, conducts research in a Systems Cancer Biology lab, and a peer tutor. She also volunteers with the Community Health Educators (CHE) and at a local clinic.
In her free time, she enjoys trying (emphasis on the trying here) to skateboard, cook, play the piano, and work on pottery. Her favorite punctuation is probably the parentheses (in case you couldn't tell). She loves trying new tea flavors, but can't stomach the taste of coffee. Medha is an avid superhero fan and can probably talk about the MCU for a long time (she is still coming to terms with the recent Dr. Strange movie, but that's a conversation for another time).
Transitioning from high school to college is already a feat and adding a global pandemic on top of that doesn't make the task any easier. But there are so many resources to help you all ease through this period, so please feel free to reach out to Medha with any questions at all (academics, extracurricular, social, or otherwise)! She is beyond thrilled to get to know the Class of 2026!!!