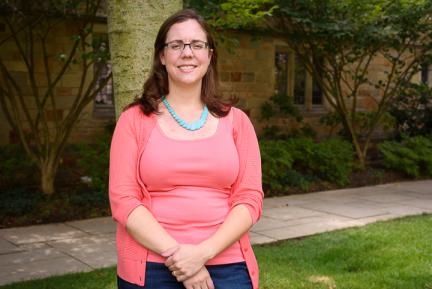 (203) 432-0520
sarah.insley@yale.edu
Branford College — J13
74 High St. New Haven, CT 06511
---
Sarah Insley earned her BA summa cum laude in 2005 from The Catholic University of America in Washington, D.C.,  where she completed a double major in Greek and Latin, and Medieval and Byzantine Studies. With a passion for working with manuscripts and uncovering new texts (or new versions of well-trodden ones), she went on to study Byzantine Greek literature in the Department of the Classics at Harvard, where she earned her PhD in 2011. Subsequently, from 2011-2013 she held a College Fellowship in the Classics at Harvard, during which time she became dedicated to expanding curricular offerings in late antique and medieval literature, and also worked as a program coordinator for a study abroad program in the Peloponnese. Prior to coming to Yale, she held an ACLS New Faculty Fellowship at Brown in the Department of Classics. Her research interests center on the period of transition from the late Roman to the Byzantine Empire, particularly as regards literary and cultural history. She is always happy to talk about the pleasures of studying literature, not-so-living languages, and the Mediterranean world, and looks forward to becoming involved in things Classical and Medieval at Yale.
Outside of work, Dean Insley is an enthusiastic amateur flautist and longtime choral singer, and is excited to make and enjoy music in the Yale community. She has lived for a long time in Belgium and Germany, and has made extended visits to The Netherlands, Greece, and Turkey. Traveling, experimenting with new recipes in the kitchen, and exploring coastal New England rank high on her list of favorite activities.
Dean Insley's husband, Ozan Say, joins her at Branford. He holds a PhD in folklore from Indiana University (2013), and earned his MA in History and BA in Business Administration at Bogazici University in Istanbul. He is a former professional dancer and choreographer, specializing in the traditional dance cultures of his native Anatolia and the Eastern Mediterranean. Prior to coming to New Haven, he taught undergraduate courses in communication and anthropology, first at Indiana University and then at Bridgewater State University in Massachusetts. In his spare time he is an avid gardener and can spend an unlimited number of hours fishing on the Aegean coast when he is back home in Turkey.
They also have a Cairn Terrier named Bertie, who labors under the impression that he is people, too, and looks forward to making new friends when the school year starts. His favorite activities include: regular cuddles, long walks, stealing empty paper towel rolls from the recycle bin when no one is looking, and chasing squirrels, his prey of choice. He has never caught one, but aspires one day to do so.
Students are always welcome in the Dean's Office. To make an appointment, please contact her assistant, Jen DellaCamera, at 203-432-0520, or jennifer.dellacamera@yale.edu.