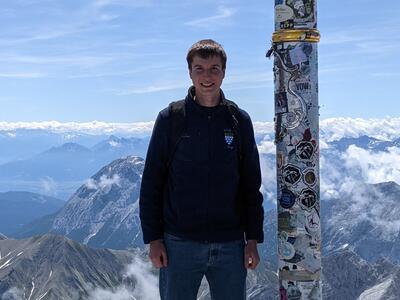 Hailing from St. Petersburg, Florida, Billy studies Applied Mathematics with a concentration in Economics. He is also an Air Force ROTC cadet, and he plans to serve as a Space Operations Officer in the Space Force upon graduation.
Billy has spent the past two summers in Munich, Germany researching space law and developing a thermal analysis simulation for a satellite startup. He has served as Speaker of the Yale Political Union and Treasurer for Camp Kesem Yale, an organization dedicated to supporting children impacted by a parent's cancer. Billy has worked as a peer tutor for the math department, and has written for the sports desk of the Yale Daily News—if only to prove to his friends that Floridians do know about hockey. If you catch him in his spare time, you might see him running around New Haven or learning how to build a snowman.
No matter where his (mis)adventures take him, you're sure to catch Billy returning home to Branford. A proud yet competitive squirrel, he won Branford Assassins his first year after eliminating eight of his fellow squirrels. His next mission: surpassing Head De La Cruz on the pinball leaderboard. But regardless of where you'll find him, Billy is beyond excited to meet all the new Branfordians in the Class of 2026!