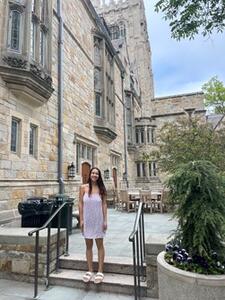 Christina (she/her) is from Seattle, Washington and she loves the Pacific Northwest! She is double majoring in computer science and global affairs. At Yale, she has been an associate editor for The Politic, volunteered as a teaching assistant for SheCode, and helped run Spoon (a food club on campus). She has also worked as a research assistant in the economics department on a project studying economic activity and climate change.
Christina took a year off between sophomore and juniot year because of covid (and is a huge proponent of taking time off!). During the gap, she lived in New Haven while working remotely for a few different social impact tech startups and nonprofits.
Christina is super excited for her fifth year in New Haven and can't wait to welcome the Class of 2026 to Branford!