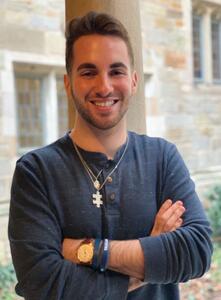 My name is Jack O'Donnell, and I am from Watertown, Connecticut. I am pursuing a B.S. in Neuroscience and am looking to apply my research around autism spectrum disorder at the Yale Child Study Center and my studies in neuroscience to a career in medicine as a physician.
Outside of the classroom, I am a photographer and videographer for the Yale Men's Basketball team, where I create promotional content for their social media pages. This fall, I will be leading a club called "Dance for Everyone" which works with Chapel Haven, a residential school and independent living facility in New Haven for adults with ASD, to provide residents an opportunity for social exercise and interaction with Yale students.
In my free time, I enjoy playing intramurals, watching Boston sports, listening to music, and trying all of the fantastic food in New Haven. Being immersed in the Branford community has undoubtedly been the highlight of my time at Yale, and I am extremely excited to welcome and make memories with the Branford Class of 2026!