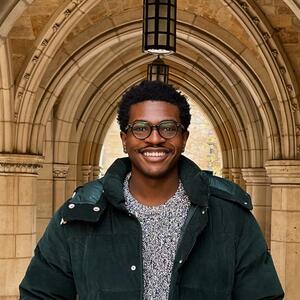 Keith (he/him) is a native Chicagoan who loves biking, taro milk tea, and vanity plates. He is interested in studying infectious diseases and is majoring in Molecular, Cellular, and Developmental Biology with plans to attend medical school after graduating. Keith is currently a fellow at the Connecticut Mental Health Center, and researches in a lab studying Lyme disease at the School of Medicine.
During his time at Yale, Keith has worked at the Afro-American Cultural Center and he has also volunteered with groups serving undocumented, uninsured, and refugee populations in New Haven. He has played cello in the Davenport Pops and Berkeley College Orchestras and is a member of Yale Steppin' Out, Yale's only step team. In his free time, Keith enjoys long walks around New Haven, taking pictures of friends, and looking for the best slice of pizza in New Haven.
Keith is thrilled to be a Froco for the Branford Class of 2026 and cannot wait to meet the next class of beaming Branfordians!